Cosmetic Dentistry: A Smile Makeover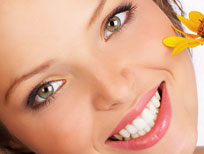 With recent advances in cosmetic dental technology, what was once considered impossible can now be performed routinely. We now have the means and the know-how to treat such conditions as discolored, crooked, and missing teeth - often in one or two visits to a cosmetic dentist, and often without discomfort.
Porcelain veneers have now become a standard part of cosmetic dentistry. These veneers are thin shells of porcelain bonded to the front teeth. Using porcelain veneers, we can change the shape, color and length of your teeth in only two visits - instant orthodontics!
Dental bonding is a widely used phrase that describes how tooth-colored fillings are placed. Using dental bonding, we can eliminate discolored areas, fill in gaps, and also build back areas of gum recession.
Composite fillings (tooth-colored fillings) can now be placed in the back molar areas when tooth decay is detected. These fillings can be used instead of amalgam (silver) fillings and are virtually invisible. Dentists have fun placing composite fillings and patients like them, too.
Teeth whitening is a great treatment for generalized yellow or stained teeth. With custom-fabricated tooth bleaching trays, the bleaching procedure can be done at home at your own convenience. The process generally takes about four to six weeks and the results are very impressive.
With the treatment options available today, it's possible to have the smile you've always wanted. Let your dentist know if you're interested in learning more about these advances in cosmetic dentistry.
Dental Veneers - The Ultra-Thin Solution to Damaged Teeth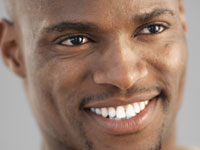 Do you have a weakened, discolored or broken tooth, or teeth, you wish could be improved without having them reduced in size and replaced with dental crowns? Until quite recently, a crown was your only alternative. But not any more. Now that tooth or teeth can be saved and looking fabulous with elegant, life-like porcelain veneers.
Dental veneers are less expensive than crowns, easier on the patient, and relatively quick to place. You could call them "instant orthodontics."
And forget about those thick, heavy, "clunky" tooth veneers of five to ten years ago. Today's dental veneers are ultra-thin and very light, bonded to just the front of the tooth. Cosmetically and technologically speaking, there's no comparison. You have to see them to believe them.
This type of cosmetic dentistry is an inexpensive, simple way to hide a multitude of "Smile Sins." It is easy to improve the look and translucence of teeth stained by early tetracycline use, or years of coffee and tea stains. A minor chip or irregularity can be corrected in a flash with a veneer. No pain, no strain, nothing but the perfect tooth restoration you've always wanted.
Misshapen or overlapping front teeth? By removing just a tiny fraction of enamel and placing tooth veneers, your front teeth can be contoured or straightened. Best of all, a single office visit to a cosmetic dental professional usually does the trick.
The prosthodontics procedures available today are high-tech and versatile. Call your cosmetic dentist for a consultation, and see if a dental makeover can give you a whole new smile!